LINKS & SNIPPETS
Some good places to visit…
How dung beetles, a tiny molecule and a giant extension cord could help solve our climate mess
An ABC NEWS feature supported by #rockflatblog
What's in a name?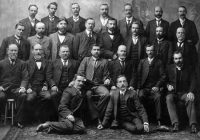 Have you ever wondered why the Australian Labor Party is not the Australian Labour Party …
It seems the answer is that the Australian Labor Party spells its name thus because it has traditionally been more radical. Sounds a bit silly today, doesn't it. However the decision was made in 1912 when the 'American' way of doing (and spelling) things was thought to be radical.
Donald Trump certainly put a cap on doing things the 'American' way many years later!